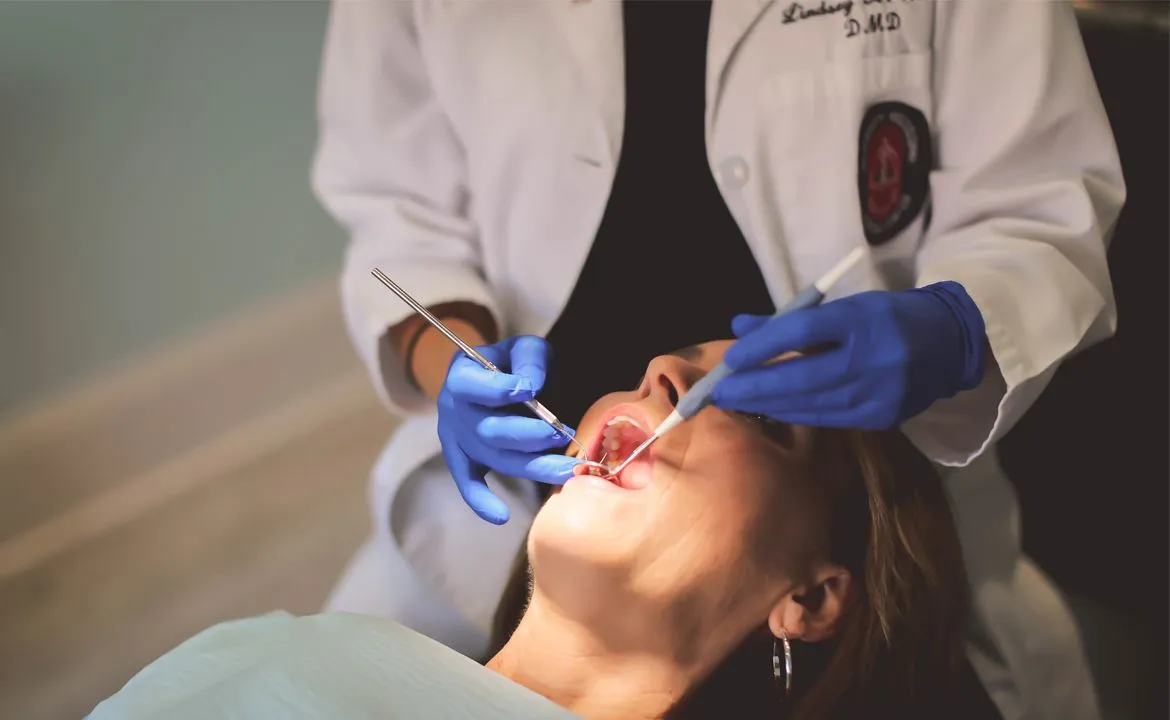 Teeth Whitening, Implants, Clear Braces, Porcelain Crowns, Botox, Fillers, IPL laser, & more
From routine cleanings and fillings to clear aligners, implants, & facial recontouring...Warner Family Dentistry & Med Spa is equipped to handle all of your healthcare & cosmetic needs. To help you understand your options, we've included descriptions of some of our leading services on this page.
What Sets Us Apart
Unlike some clinics, Warner Family Dentistry & Med Spa is interested in more than just your teeth. We are concerned about your overall health & happiness! That is why we have a very thorough health history questionnaire & review your medications with you. It is important not to omit any health information when filling out your forms. Something you may believe to be unrelated to your treatment may actually be extremely vital information should you need/want a procedure or prescriptions.
Dr. Warner also performs a complete head & neck cancer screening at every dental cleaning appointment with an OralID device as part of her intraoral clinical exam. Because your oral cavity is the door to your entire body, many systemic diseases are diagnosed by your dentist before your physician!
Our MedSpa continues to add services that enhance your smile, face, & overall beauty. Dr.Warner has trained all over the country and is certified as a Master Associate Injector by the American Academy of Facial Esthetics. Not only do we use Botox for wrinkles on the face, but we also use it to treat TMJ, migraines, gummy smiles, neck/back pain, Bell's Palsy, eye twitching, & more. Our many different types of fillers can be used to plump the lips, enhance the cheeks or jawline, & eliminate smile/marionette lines. PDO smooth threads are used to stimulate collagen production & can be used anywhere to smooth the skin. Our PDO lifting threads can actually lift sagging skin of the jowl or neck with an immediate result! We are so excited to have our Optimas device that offers a variety of treatments including fractional Radiofrequency microneedling (Morpheus8) for skin tightening, IPL laser (Lumecca) for discolorations, laser hair removal (DiolazeXL), & RF energy (Forma) for a celebrity facial glow.
Some of the services we offer include, but are not limited to, the following:
Cleanings
Tooth-colored Fillings/Bonding
Crowns & Bridges
Whitening/Bleaching
Partials & Dentures
IPL laser
Implant Restorations
Oral Cancer Screening
PDO Smooth & Lifting Threads

Sealants
Laser Hair Removal
Root Canals & Extractions
Periodontal (gum) Therapy
RF Microneedling
Clear Aligners (braces)
TMJ/Migraine Therapy
Nightguards/Athletic Mouthguards
Botox & Fillers
Initial Examination
Your initial dental examination includes a visual oral examination, charting, periodontal probing, cancer screening, diagnosis, and treatment recommendations, as well as cosmetic consultation if desired. We will also take x-rays, which may include a panoramic for proper diagnosis of the anterior (front) and posterior (back) teeth &/or a bite-wing series for proper diagnosis of proximal decay of posterior teeth. Photos will be taken of your teeth &/or face. The doctor will discuss any needed/wanted treatment with you at the end of your appointment and explain your options.
Crowns and Bridges
Crowns are synthetic caps, usually made of a material like porcelain, placed around the tooth. Crowns are typically used to restore a tooth's function and appearance following a restorative procedure such as a root canal. When decay in a tooth has become so advanced that large portions of the tooth must be removed, crowns are often used to restore the tooth. Read More...
Teeth Whitening
Whitening procedures have effectively restored the smile of people with stained, dull, or discolored teeth. The darker tissue of your teeth, the dentin, can become exposed as the outer layer of enamel is worn away by the effects of aging or things like caffeine and tobacco. Ask us about our amazing Glo treatment! Read More...
Clear Aligners
Sometimes called "Invisible braces" or "clear braces", dentists and orthodontists commonly call them "clear aligners". Clear Aligners are a technological advancement that has made orthodontic treatment less obvious, while moving teeth and aligning jaws to create a healthy, beautiful smile. Read More...


Implant Restorations
Implant Crowns are the finishing touches after dental implants have been installed. These devices are placed on the abutment fitted on the external-facing end of the implant, and they look just like real teeth. Read More...


Face & Body
Our Optimas device by InMode is an innovative non-invasive to minimally-invasive solution designed to give you smooth & younger-looking skin anywhere on the face or body.
MORPHEUS8 uses fractional radiofrequency with microneedling to supercharge collagen production at the subdermal level. It's safe enough for use under eyes but deep enough to target the abdomen or thighs. Some redness & swelling is common for the first few days after treatment, with maximum results seen in as little as 3 treatments. Treatments are spaced 4-6 weeks apart. Great for:
sagging skin (jowls, turkey neck, knees, bat arms)
lines & wrinkles (forehead, smile lines, around the mouth & eyes, 11's)
scars & stretch marks
skin tone & texture
LUMECCA uses intense puled light (IPL) laser for treatment of red &/or brown lesion to improve complexion and clarity of the skin. A series of 3 treatments is recommended, but some spots may require only one and some up to six or more treatments. Apply make-up immediately after this treatment and go back to work! This procedure is not for individuals with skin type V or VI. Lumecca is most popular on the face, neck, chest, & hands, and improves the appearance of :
sun spots & age spots
freckles
rosacea
port wine stains
vascular lesions & redness
pigmentation & discoloration
uneven skin tone
DIOLAZExl uses a diode laser for comfortable, safe, effective, & PERMANENT hair removal! This treatment removes fine & residual hair anywhere on the face or body for smooth & soft skin. It is safe for light & dark skin tones and takes anywhere from 4-10 sessions (depending on amount & type of hair) to achieve 95% permanent hair reduction. We offer packages of 6 to save you money! Favorite areas include:
upper lip
chin
underarms
sideburns
bikini line
legs
back
FORMA is our traditional completely non-invasive thermal Radiofrequency energy treatment that stimulates the production of new collagen and improves skin elasticity. Zero pain & zero downtime, this safe and gentle skin treatment is quick & effective. Great for small areas like the jowls, neck, smile lines, & forehead...we like to call it our "celebrity facial" because you leave with a glow! This treatment may take up to 8 sessions to see full results due to the non-invasiveness.
Botox & Dermal Fillers

Botulinum toxin has been designed for use on the muscles that are commonly used in facial expressions. Every time we laugh, cry, frown, or show other emotions, we are contracting certain muscles in our face. In time, these muscles tend to become stuck in a state of contraction. It is at this time that we begin to notice signs of aging. BOTOX®, a purified derivative of botulinum toxin, has the power to limit the contractions of often-used muscles. Because of their relaxation, the overlying skin smooths out and you appear younger and more energetic. It is also used therapeutically in the jaw to relax the muscles that cause TMJ, clenching/grinding, tension headaches, & migraines.

Common uses for Botulinum toxin include:
•forehead wrinkles
•frown lines
•crow's feet
•brow lift
•bunny lines
•dimpled chin
•gummy smile
•downturned mouth
•platysmal neck bands
•smokers lines
•head, neck, & jaw pain

Hyaluronic acid (HA) dermal fillers such as JUVEDERM are used to address a number of the concerns that come from volume loss or lack of volume. The safe, effective replacement of hyaluronic acid in lines, folds, and ill-defined areas leads to a more youthful appearance without surgical intervention. With this treatment, results are immediate and long lasting.

The most popular areas to add volume are the lips, cheeks, smile lines, & marionette lines, but this treatment may also be used to define the jawline or enhance the chin. Dr. Warner also uses fillers inside the mouth to correct "black triangles", or areas between your teeth where the gum has receded leaving a space!

PDO threads are solid fillers (much like a suture or stitch) that are used sub-dermally to either smooth or lift the skin.
SMOOTH PDO threads are useful for acne & surgical scars, poor skin texture, deep set lines/wrinkles where filler can't be used, & around the border of the lips. They last longer than Botox & traditional HA fillers because as they dissolve...your natural collagen & elastin is stimulated! This gives you a more natural, longer-lasting result.
LIFTING PDO threads provide all the benefits that smooth threads offer, but also actually lift sagging skin. You will see an instant result immediately after the thread placement! These are popular for use on the jowls, jawline, neck, & brows. Leave with only a tiny bandaid after the procedure but looking like you just had a facelift!!!