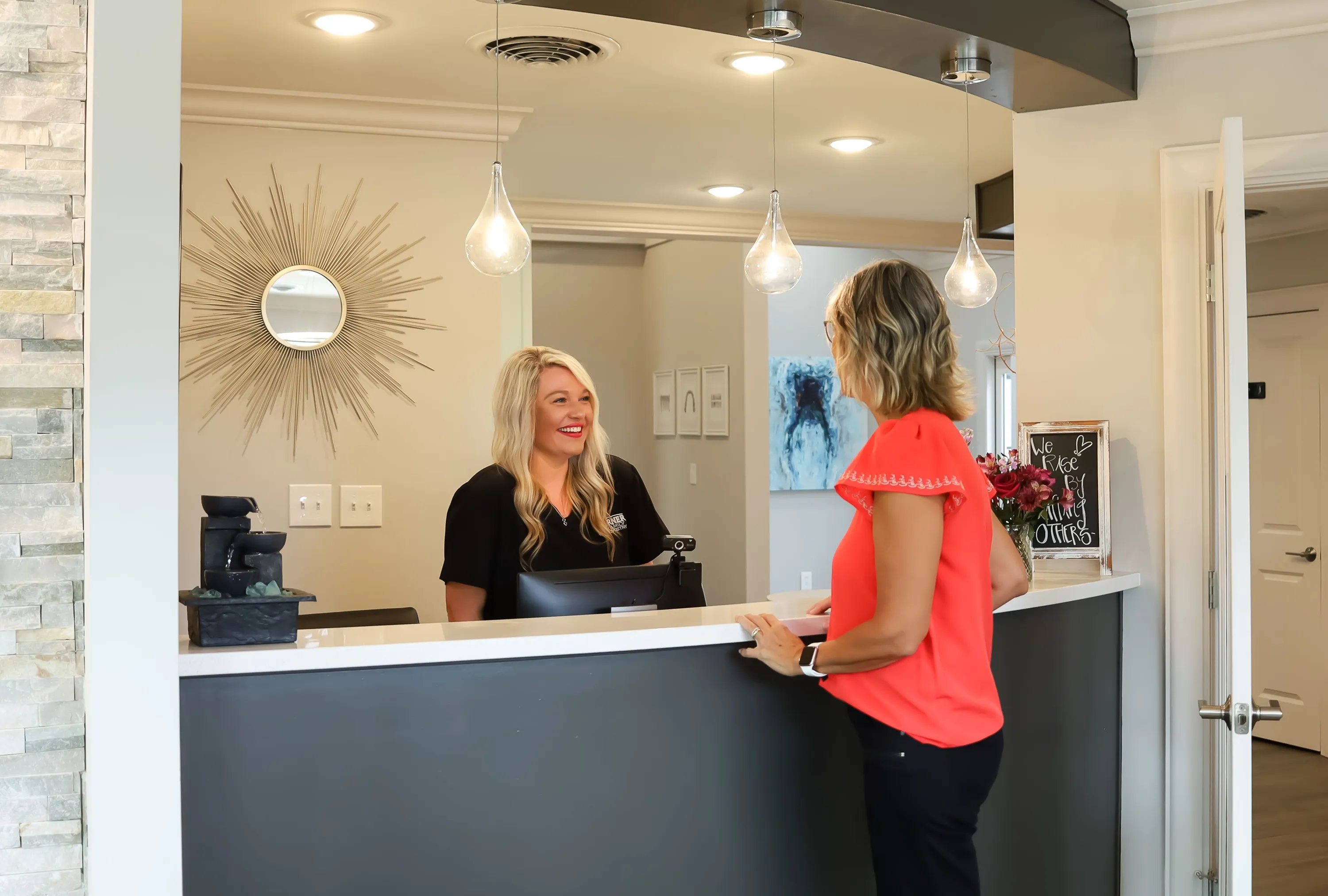 Map and Directions to Starkville Office
Your first visit to Warner Family Dentistry & Med Spa establishes a vital foundation for our relationship with you. During the first visit, we make sure to obtain important background information, like your medical & dental history, and give you time to get to know your hygienist, assistant, & Dr. Warner. To understand what to expect for your first visit to our practice, please read through this page.
You will find all the practical information you need on this website, such as a map and directions to our office, practice hours, payment policies and more. There's also background information about our committed team, services that we offer, photos, and our first visit procedures. You can even save some time at your first visit by completing the patient forms online in advance of your appointment! We encourage you to do this so that your appointment time can be spent on you and not paperwork.
Mission Statement
Our mission is to make a positive difference in the lives of our patients of all ages by offering the highest quality of care in a relaxed, comfortable, and family-oriented environment. By providing a team of honest, compassionate, and committed employees, we strive to improve patient health, appearance, self-confidence, and overall quality of life.
---
What To Expect
You will be greeted with a smile by our Patient Coordinator upon arrival. When checking in, please have your forms already filled out, photo ID, and insurance card if you have dental benefits. Then make yourself at home in our reception area until your name is called.

In keeping with our high standards, your first appointment will include a comprehensive examination professionally designed to enable us to perform any and all future treatment needs to the best of our abilities. We have a questionnaire to get to know you & your wants/needs, take any and all necessary x-rays, chart your existing conditions, probe for gum disease, examine your bite & joints, and check for head, neck, & oral cancer. Dr. Warner will recommend any needed treatment and offer options to help you achieve health, function, and esthetics. You will never be pressured to do treatment. It is our job to educate you about your health, your job to make decisions about the treatment you receive, and our commitment to provide the best that dentistry has to offer.
Please be advised that depending upon your dental needs, you may or may not have your teeth "cleaned" at your first hygiene appointment. Some patients need "deep cleanings" that require more time and preparation than what we allow for a first visit appointment. Conditions of the mouth and teeth (like periodontal disease) have a direct affect on your overall health and quality of life (including diabetes & heart disease), so while we try to make your visit as convenient as possible...we never rush an appointment.
*Go to our OFFICE page for information on insurance/billing, our appointment policy, & office hours.
MEDSPA PATIENTS: If you would like to receive Botox, Dermal fillers, PDO threads, or an Optimas treatment at your appointment, please let the receptionist know when you call so that she may schedule the appropriate amount of time for your cosmetic &/or pain management consultation.
You will have a different medical form to review. Photos of the treatment area will be taken, as well as measurements and the patient's facial/body contours at the initial consultation. Please dress appropriately for the area you want treated so that we may easily access it if you wish to have a procedure done the same day. (We do provide robes &/or towels for more intimate areas.) Ladies, please wear little to no makeup, as it will have to be removed for treatment of the face. Avoid blood-thinning medications & alcohol for 48 hours before your appointment if possible to decrease bruising in the area you want treated. For migraine & jaw pain consultations, please wear loose-fitting clothing around your neck & shoulders.
***Don't hesitate to call us if there is anything our website has not answered for you! Being well-prepared for your appointment will ensure that the doctor has all of the needed information to provide the best possible care for you. It also will help relieve any unnecessary anxiety you may be feeling. Educate yourself on your symptoms by reviewing the content on this website & take some time to review our staff page so that you are familiar with Dr. Warner and our team. We look forward to your first visit with us!
---
Driving Directions